Home > Offshore Software Development > CGI Development
CGI Development
Common Gateway Interface (CGI) program can be written in any language that allows it to be executed on a computer. At present, the most commonly used languages for CGI are C and Perl. CGI programs written in C typically have to be compiled. They are difficult to modify and maintain. Therefore, many people prefer to write CGI programs in Perl, which is interpretive and resembles C language. However, writing and maintaining a large program in Perl is very challenging.

CGI programming is the most common method that can be used to exchange data between the server (the hardware and software that actually allows you to get to your web site) and a web client (your browser). Technically, CGI can be called a set of standards where a series of programs or scripts can send data back to the Web server where it can be processed.

A common method to provide dynamic feedback to Web users is to include scripts or programs that run on the user's end machine rather than the Web server, such as Java applets, Java scripts, or ActiveX controls that are known collectively as client-side solutions, while CGI is a server-side solution because the processing occurs on the Web server..

One important point that needs to be taken care of while using CGI is that each time a CGI script is executed, a new process is started. For busy Web sites, this can slow down the server noticeably. A more efficient solution to this unnecessary slowdown is to use the server's API, such as ISAPI or NSAPI. Another increasingly popular solution is to use Java servlets.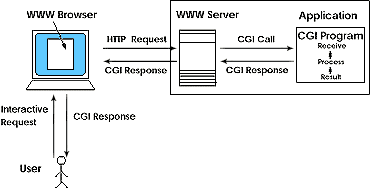 Figure - CGI Communication between the Web Client and Server
Functionality in detail (as per figure):
The CGI routine included in the specified form tag by webmaster.

Webmaster creates HTML tags, which retrieve data from the visitors.

Data from the visitors has been taken into the variables names specified in the input tags.

User's submission action triggers the CGI routine / script / program and the respective form tags are executed. This time, the CGI routine "takes control," i.e., the browser essentially is waiting for it to complete.

CGI routine gets data from variable names, retrieves the data and does whatever action is required.

After the completion of the CGI routine, the returns control back to the web browser.
Some Common uses of CGI:
To create Web documents that depend on user interaction based on the various scripts to take readers to random pages on the site, create specific pages based on form input, and generate pages based on databases of information.
To resolve form data, put that data in to databases, send the data out as an email message, respond to the form entry with email or another Web page, and much more.
To interact with Web readers. They can set and read cookies, get and tabulate information such as browser and operating system, calculate hit counts, and monitor Web traffic.
---
Please Click Here to get a Free Estimate for your project.
SynapseIndia.in is a leading offshore software development company in India. We offer high quality, timely delivered and cost effective optimum products to global industries on advanced e-commerce services and B2B & B2C solutions, integrating the entire business requirements.


SynapseIndia Services